Online gambling Saskatchewan
There's a lot of talk recently about Canadian online gambling and many people have been asking, 'is online gambling legal in Saskatchewan?' Well, the good news is that yes, as of 2021 when the federal government approved betting, the province of Saskatchewan has been able to legalize online gambling.
This western prairie province is home to one of the world's largest fanbases for gambling. Though there are only just over one million residents in the region, lots of them enjoy sports wagers and online casino games – more so than ever now the laws have allowed more!
In this article, we'll tell you all about Saskatchewan online gambling so that you're fully informed and know how to join in.
Online Casino Saskatchewan
Legal online gambling in Saskatchewan

All Canadian provinces have the ability to set their own laws regarding online gambling. In Saskatchewan, officials have recently deemed online gambling to be a legal activity.
After the legalization of online gambling in the province, Saskatchewan's first online, legal and regulated casino was opened at the end of 2022. The site, called Playnow.com is operated by SIGA – the Saskatchewan Indian Gaming Authority – and managed by SaskGaming. It is also regulated by the Saskatchewan Liquor and Gaming Authority and uses the same platform as PlayNow.com in British Columbia.
Though there are the regulated sites belonging to the Saskatchewan province itself, there are also foreign or 'offshore' sites that are able to offer their services to residents. Though these are legal, it's worthwhile mentioning here that they are not regulated by the Canadian government and as such, are a greater risk for players.
Having said that, most offshore sites are legal in their own right and have international gaming licenses from the likes of the Malta Gaming Authority or Curacao. Any that aren't legal, are blacklisted quickly.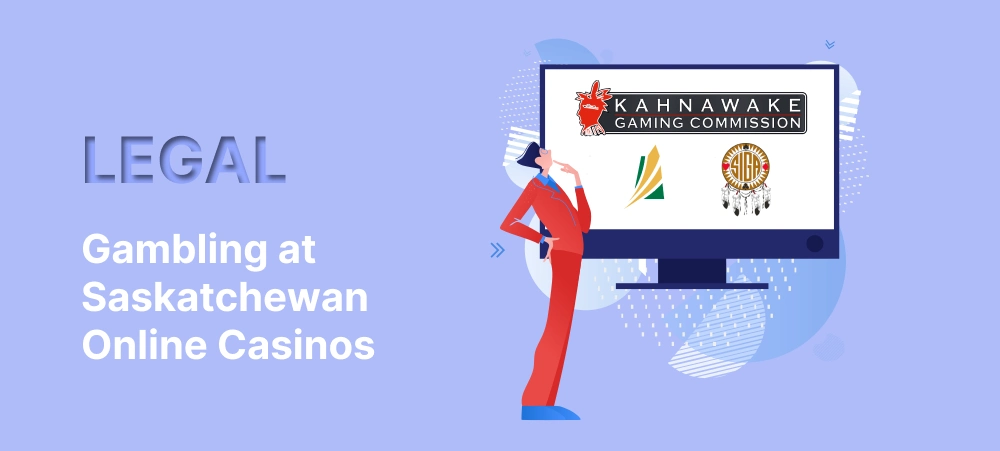 The legal gambling age in Saskatchewan is 19, as it is in the majority of Canadian provinces where online gambling is legal. This means that anyone who is 19 and over can take part in all forms of gambling activities.
Legal gambling activities in the province include:
Casino gambling online in Saskatchewan

Provide that players meet the gambling age Saskatchewan requirements, they are free to enjoy online gambling in the province. For people looking to join a Saskatchewan casino, there aren't many options yet as this is still a new legal activity in this country and province.
It's no surprise, though, that online gambling Saskatchewan has really taken off since the legalization and regulation of the activity began. There are more and more legal online casinos Saskatchewan can offer its residents now.
Finding a casino that suits you is a matter of looking for things that matter most to you. For some people, this is the payment method, for others it is the gaming library.
Sports Betting in Saskatchewan

The Saskatchewan gambling age of 19 also applies to sports betting. This province is known for its passion for sports. Even though there are no major NBA, MLB or NHL teams from this province, the residents still love betting on their favorites.
Sports betting is available for a huge range of sports. These include hockey, football, basketball, soccer, golf, winter sports, MMA and baseball. There's also a huge fanbase for esports too and many Saskatchewan residents partake in wagering on esports.
There are a number of different legal sportsbooks bettors can use. These include Sports Interaction, BetOnline and Spin Sports.
Sports Interaction has one of Canada's biggest user bases. You can find all sorts of sports bets here, including esports like Dota 2 and League of Legends.
BetOnline is a good betting site, though it's a little old-fashioned. The payment system is very secure too.
Finally, Spin Sports has over thirty sports to bet on, including esports. You can even see future odds months in advance here.
Mobile gambling
Mobile gambling in Saskatchewan is becoming more and more popular. Mobile betting sites follow the same laws and rules as online casinos, including the gambling age in Saskatchewan of 19. As well as having mobile-optimized online casino and sportsbook sites, there are many Saskatchewan casino apps too.
Payment methods for gambling
Thankfully for players in Saskatchewan, most only casinos have a huge range of payment options. Generally, these include payments by Visa, Mastercard, American Express, Bank Transfer, Discover Card, PayPal (and other e-wallets), and cryptocurrencies.
FAQ about Saskatchewan Online Gambling
How much money could I win at Saskatchewan online casinos?
The vast majority of Saskatchewan online gambling sites have no upper limit on how much you can win. Your chances of winning will be better if you choose to place bets on games or sports with good odds.
Do offshore casinos accept Saskatchewan players?
Yes. However, it's important to check out a casino's license and regulatory body as offshore casinos aren't regulated within the province or country.
Is online gambling legal in Saskatchewan?
Yes. Online gambling is legal for anyone aged 19 or over.
Are there land-based casinos in Saskatchewan?
Yes. Saskatchewan also has physical casinos where gamblers can enjoy in-person gambling games.
Do you need to pay tax on your winnings at Saskatchewan online casinos?
No. You would only pay tax on your gambling profit if you make your primary income this way.
What is legal gambling age in Saskatchewan?
Saskatchewan legal gambling age is 19 years old.